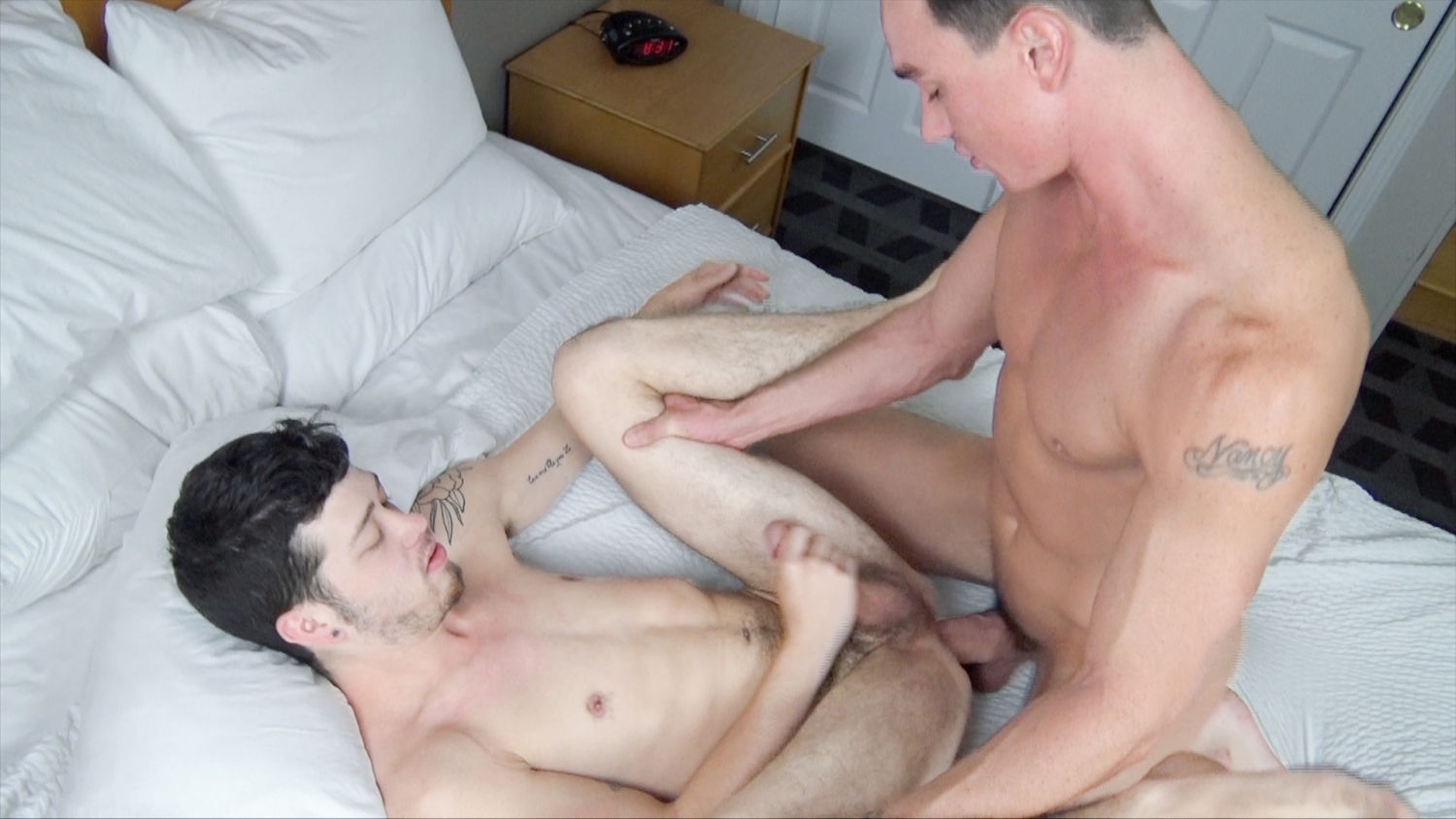 Jaxon & Cade
Jaxon and Cade are two seriously sexy guys. They've hooked up in a hotel room in Albuquerque and are so into each other that they've bypassed the small talk, stripped to their underwear and are already getting down and dirty.
Cade is a ...
[Read more]
Cade is a handsome, well-built young man, with a smooth chest, and tattoos on his shoulders and back. Jaxon is leaner, paler, slightly taller and younger than Cade. He wears a diamond stud in his ear and has scruffy stubble on his chin.
They kneel on the bed and kiss passionately, bodies lustfully entwined, desperately groping and fondling each other.
Cade soon takes control. He lies against the bed's headboard, legs spread wide while Jaxon pleasures him orally. Cade's dick is a weapon of mass destruction which he grinds and thrusts into every inch of Jaxon's warm, wet, hungry mouth. Cade loves the sensation. A smile of immense pleasure creeps across his face.
Cade is impatient. He throws Jaxon face down onto the bed, and kneels behind him, steering his throbbing man-meat into the younger man's tight ass. It's a good fit. Jaxon grits his teeth bravely and pushes back as the full length of Cade's dick slides into him in one intense stroke. Cade grins and starts to thrust.
This is an ass he's gonna enjoy… Within seconds he's banging himself hard into the younger man's ass, screwing Jaxon at an unbelievable speed, his pelvis and well-defined abdomen brutally slamming against his new fuck toy's ass cheeks.
Jaxon can't quite believe the punishing pounding he's receiving. His eyes roll back as he throws his head onto the bed sheets.
Cade, now turned on to the max, slows down and attempts to regulate his breathing. Every fibre of his body is screaming to cum, but he wants a longer ride. He hooks his legs over Jaxon's so that he can fuck with even more power. He's a relentless sex machine and he bangs without mercy.
Moments later, Jaxon finds himself climbing onto Cade. He sits on the top man's dick, angling his body to the side so that he can look down at his abuser. Jaxon uses his full weight to slam himself up and down on Cade's meat, his own dick bouncing up and down, stiffening as Cade's onslaught continues. It's impossible to know which of these two crazy, horned-up, sexy bastards is gonna shoot first. Jaxon rides Cade harder and harder and the two men stare into each other's eyes, hungrily.
The athleticism continues with Jaxon now almost flat on the bed with one arm around Cade, who lifts Jaxon's leg and slams himself into him. The position enables the men to kiss again, and they do so with great passion and hunger, their tongues dancing, saliva building uncontrollably. These two guys are living for each other. Cade is giving it everything he's got. His face is flushing red. Beads of sexed-up sweat are flying from his forehead.
Cade throws Jaxon on his back and lifts his legs to deliver a few, final hammer blows. A supremely intense orgasm is utterly inevitable for both men. Jaxon throws his head back on the bed as shivers of intense pleasure uncontrollably pass through his body. Jaxon grips his dick with his hand. He's not even jerking himself. The intensity of Cade's thrusts are doing the work for him.
Seconds later, heavy shards of spunk are flying from Jaxon's shaft, coating his upper chest and shoulders in a thick layer of juice. Cade pauses momentarily to watch the impressive show, before leaning down to kiss Jaxon fondly. A tender thank you for a job very, very well done.